Little Women 2020
Little Women is LIVE THIS WEEK!
After 405 days without an audience, we welcome you back!
Friday, April 23rd and Saturday, April 24th
6:00pm
Maloney High School Front Circle
We will present Little Women outdoors in front of Maloney High School in the circle! Our set teams have re-engineered the sets from our cinematic event in December, and support teams will help us create an outdoor theater complete with lighting, sound, costuming and sets! A live orchestra will provide the music and
our wonderful cast will bring the show to life!
There is no cost and no tickets needed.
We have plenty of room, but please come early to ensure you have a good seat!
You do need to bring your own lawn chair, blanket, etc.
You are welcomed to bring dinner, snacks, etc. with you. Light concessions will be provided as well.
This is a school event, so alcohol and smoking is not permitted at any time.
Audience members need to wear masks
Audience groups need to maintain a distance of at least 6 feet from other parties
On behalf of the cast, crew, pit, set team and support teams, we are so excited to welcome you back! While this may not be in our normal theater, we have done our best to give you the same great experience under the stars!
Hope to see you this weekend!
The Cast, Crew and Pit of Little Women!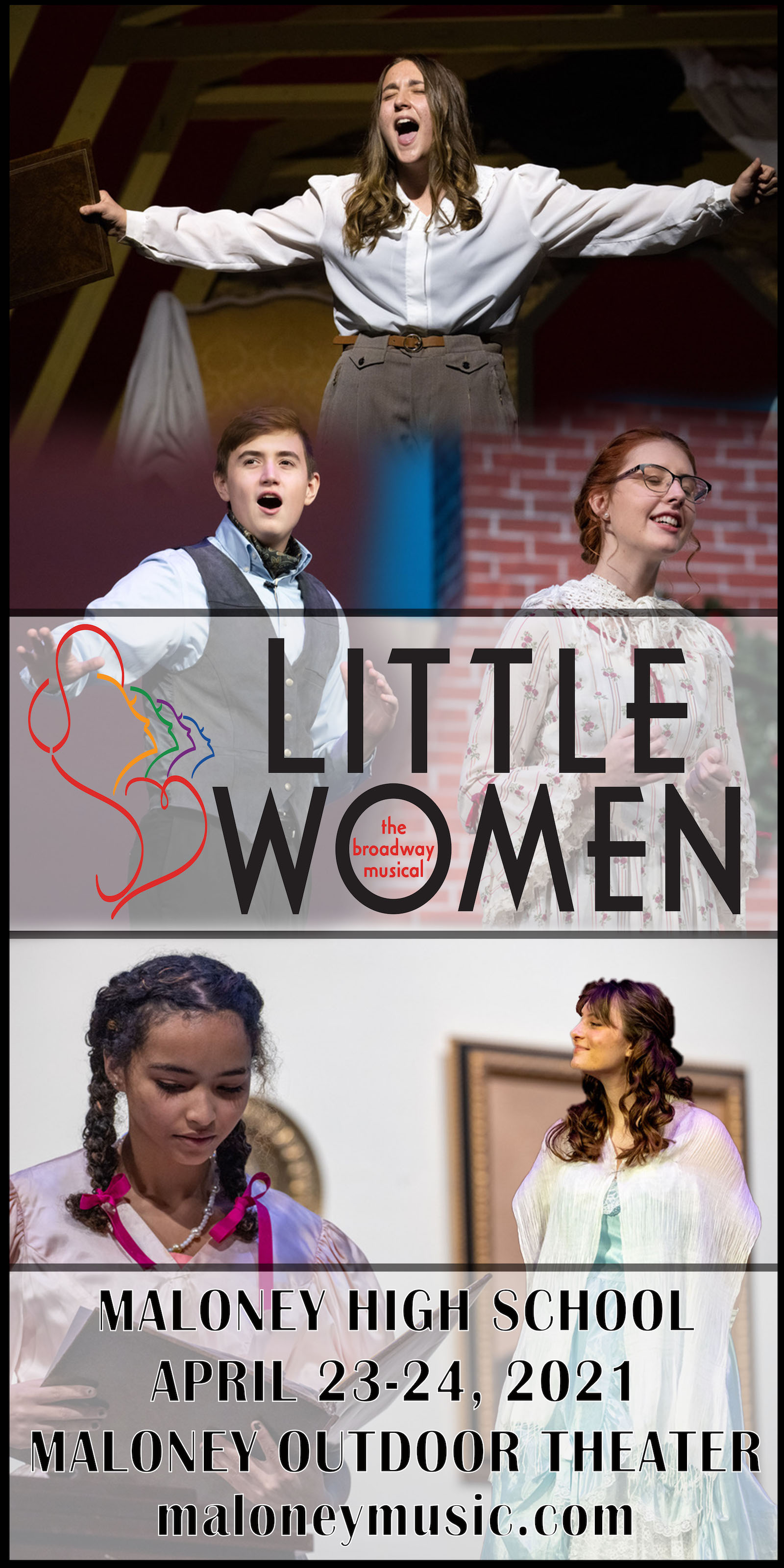 IMPORTANT SHOW INFORMATION:
*This is an ON-DEMAND video event. Once you obtain codes by clicking above, you have 48 hours to watch as many times as you wish. After 48 hours, your code(s) expire and you will need to obtain new codes.
*You will need to access your stream code via email and use the WATCH STREAM button to access the show.
*You will be able to access free tickets through April 30th. All codes will expire on April 30th, 2021.
PLEASE NOTE: This show is being carefully produced with videographers in controlled spaces and conditions and all activities are completed in coordination with school and local health officials. Strict distancing guidelines, use of PPE and other safety measures are in place throughout rehearsals and filming. Because this show is filmed, there are controlled situations where masks are not being utilized. Zoom lenses, multiple camera angles, distancing and other safety precautions are in place to allow us to tell this story in a safe environment. Please know that while camera angles and video production can be deceiving at times, this show was designed around the safety guidelines currently in place and is performed in a manner that puts the safety of our cast, crew, pit and technical talent first.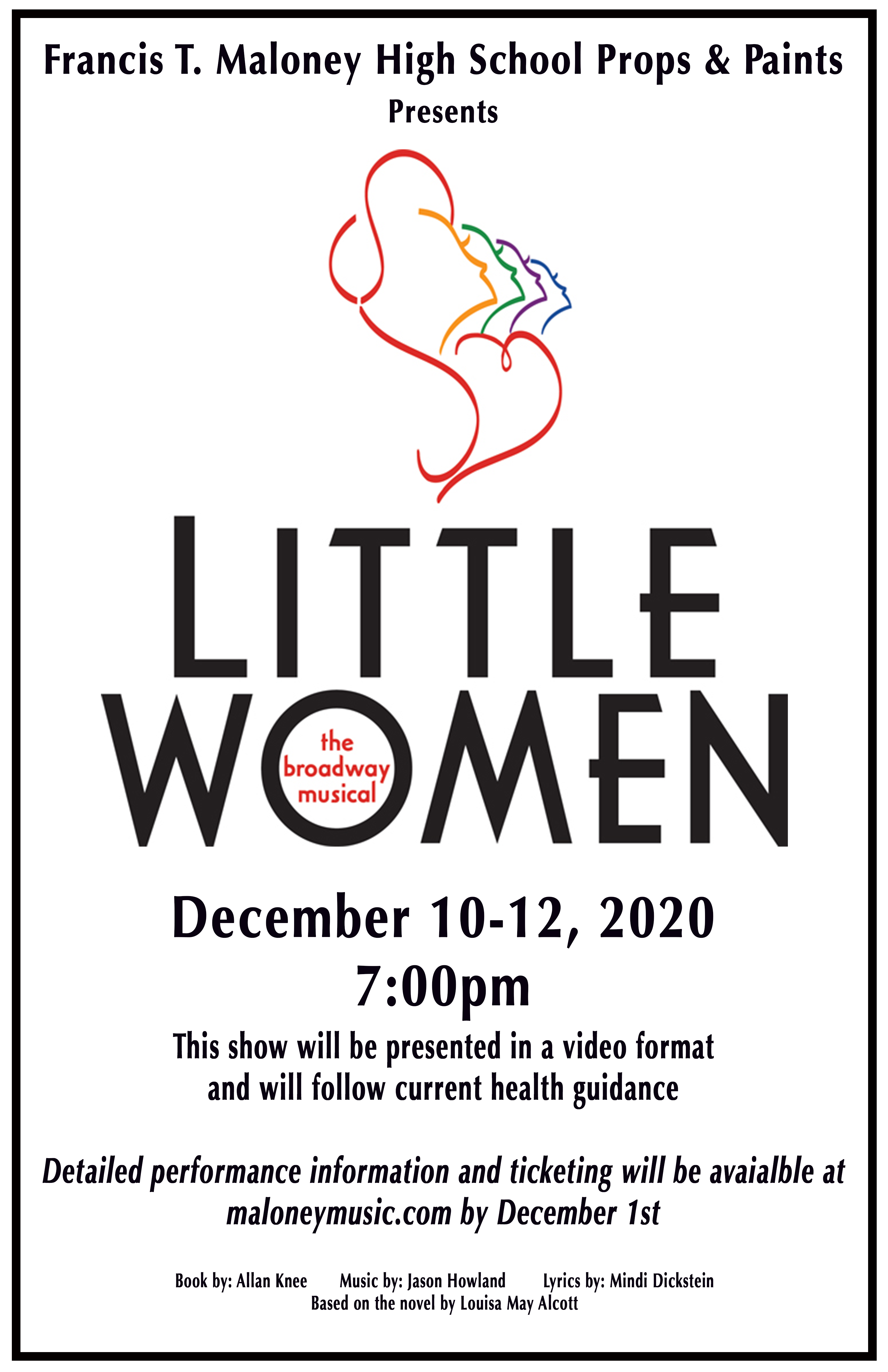 The Maloney High School Department of Music & Theatre is currently producing the Broadway show "Little Women." The COVID-19 Pandemic has forced many changes in the world and the theater arts have been significantly impacted across the world. While live theater is not a reality at this time, we are creating unique opportunities for our students in order to keep the arts alive. We have remained dedicated to our theater arts at Maloney High School and are complying with all of the most current safety guidelines. For these reasons, Little Women will be produced in a very different format than a normal production.
Little Women is being produced in a socially distant format with appropriate PPE, a closed house and in compliance with the most current local, and state arts safety recommendations. There is no live audience invited to this show and our support teams have been kept to minimum staffing. Pit musicians are playing at significant distance and are performing through in-ear monitors (headphones). Much of the normal stage movement and interaction will be limited in order to keep our students safe. Our show is being developed as a cinema film. We are recording our show (through special licensing with MTI Shows International) and developing a full scale film of our show for public viewing. Filling allows us more flexibility to produce scenes, much more opportunity to distance our artists and an opportunity to produce a show that would otherwise be unrealistic during COVID-19. We are currently planning our filming through December 12th with a video release on December 18th at 6:00pm
Questions should be directed to:
A special thanks to our incredible set design team! You have found a way to safely make incredible sets during this most challenging time and we sincerely appreciate it!
On behalf of our cast, crew, pit and design team we truly thank you for your support and we look forward to presenting this show with you!
To our audiences... we hope you enjoy this theatrical experience and we hope to welcome you back to our theater in-person very soon!