RENT Musical Production
Maloney High School Presents RENT The Musical (School Edition) on June 9-12, 2022!
IMPORTANT CHANGE:
Due to recent positive COVID cases and the importance of protecting our cast and crew of RENT, we have made the decision to change our RENT performance dates. We feel that postponing our show is the safest and smartest approach considering the recent spike of cases in our area. We have a tremendous cast and crew producing RENT and we want to ensure that our whole cast can perform for all of you.
RENT PERFORMANCES WILL NOT TAKE PLACE On the original May dates
NEW RENT PERFORMANCE DATES:
June 9 - 7:00pm
June 10 - 7:00pm
June 11 - 7:00pm
June 12 - 7:00pm
All tickets sold for our current dates will be honored at any of the dates listed and all ticket holders will be contacted. Refunds can be issued if ticket holders can not make the new dates.
For information on our show, please visit
maloneymusic.com
Sincerely,
The Cast, Crew and Directional Staff of RENT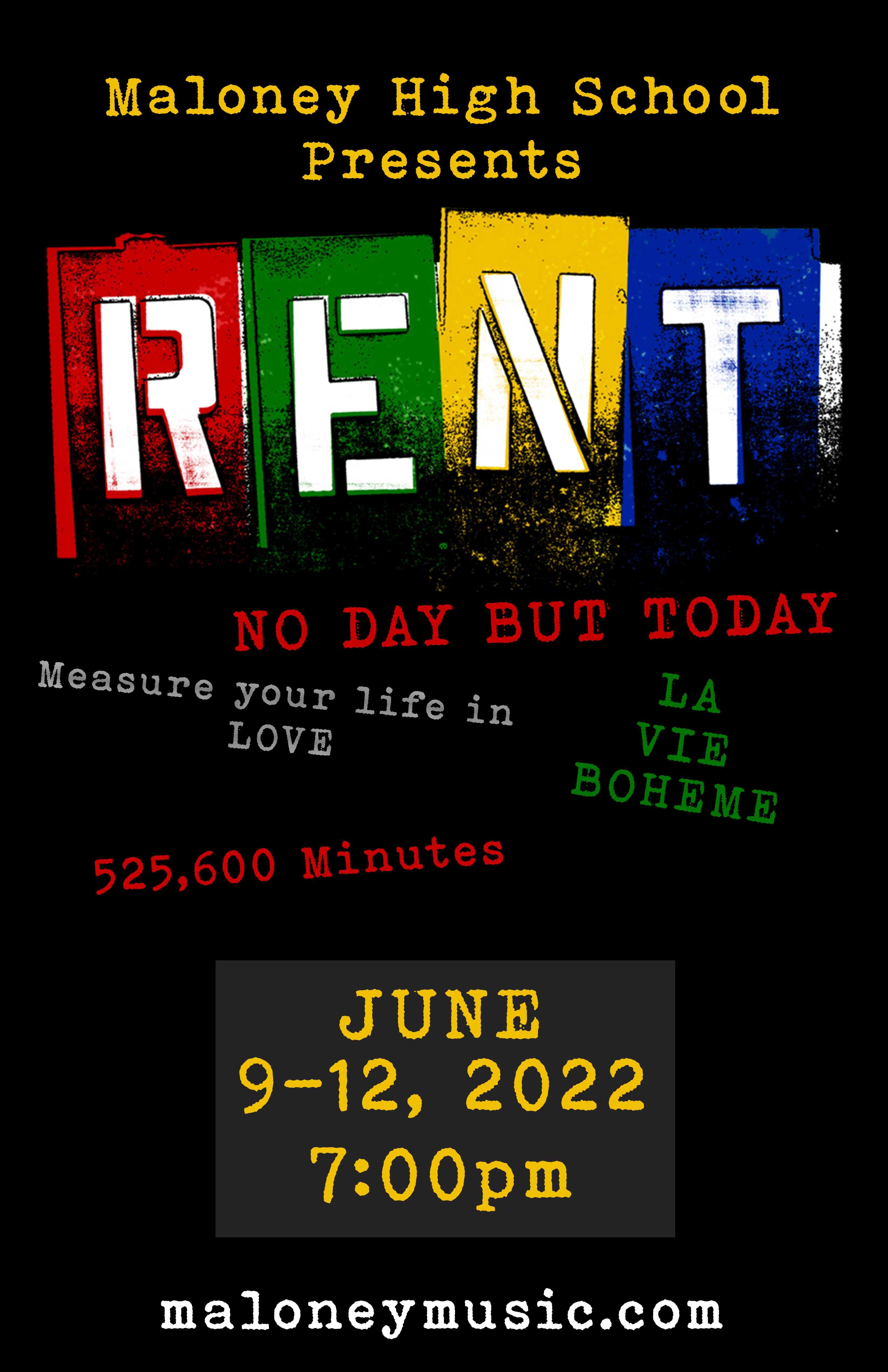 After many shows outside, in alternate locations and canceled due to the pandemic, our students return to Maloney's Parisi Theater for a tremendous show!
PERFORMANCE DATES:
June 9 - 7:00pm
June 10 - 7:00pm
June 11 - 7:00pm
June 12 - 7:00pm
Ticket Prices:
$15 General Admission $12 Students/Seniors
Presale tickets are sold exclusively online via the link above. Tickets will be available at the door - payable by cash or credit card.
A little about the show...
For a quarter of a century, Jonathan Larson's RENT has inspired us to choose love over fear and to live without regret. This Tony Award and Pulitzer Prize-winning phenomenon follows a year in the lives of a diverse group of artists and friends struggling to follow their dreams without selling out. It has become more than a musical – it's a cultural touchstone, a rite of passage and a source of joy and strength for millions. RENT has become a part of us forever. (rentontour.net)
Important Disclaimer:
RENT School Edition may not be suitable for all ages. RENT School Edition is a famed musical loosely based on Puccini's Opera La Boheme. It is a story about love and diversity that does explore some adult themes, discusses race, gender, sexuality, drug use, and does contain some adult language and discusses various social topics that may not be suitable for younger audiences. While welcome our younger audience members, we ask that parents review the content and overall themes of the show before bringing younger viewers to this theatrical experience.
Directional Team:
David Pelletier - Director
Brian Cyr - Technical Director & Pit Director
Ciara Picard - Choreographer
Alan Dougherty - Accompanist
Questions/Comments: Please reach out to Brian Cyr