Spirit of the Season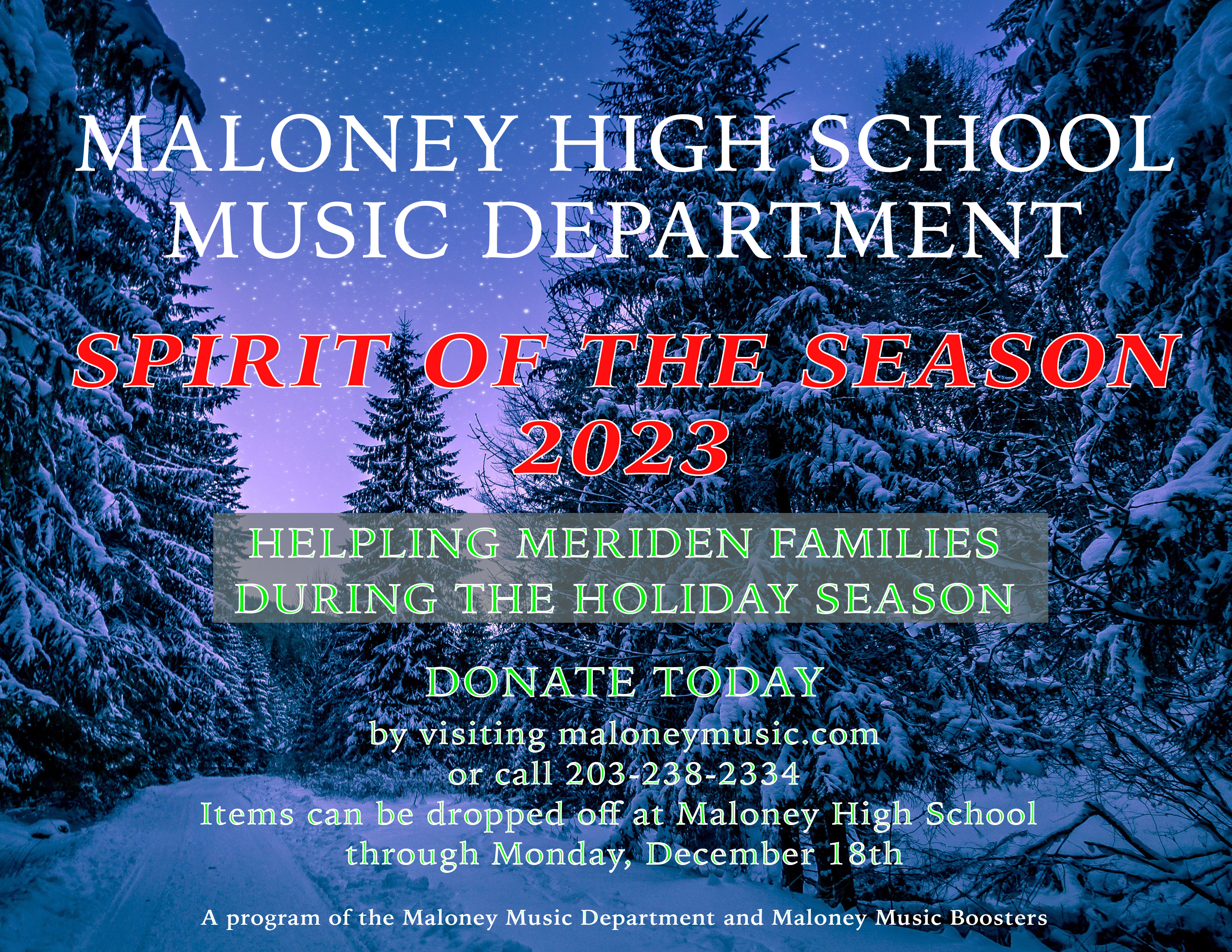 Dear Friends and Families of the Maloney High School Music Department:
After a tremendous success last year with our holiday family sponsorship, our Music Department has adopted three families for this holiday season. Each are in great need and can use any help we can provide. The students of our department have erected a giving tree in the bandroom with over 350 ornaments, each containing one item that the families need. Each family is designated by a different color ornament.
In addition to ornaments, here is some info on each family and child...
Family 1 – 8 year old boy, father
8 year old interests:
Loves Elvis
Loves John Senna (wrestler)
Into crafts, art
Would like a bike
Family needs a Christmas tree and decorations
Family 2 – 11 year old boy, adult sister, father
11 year old interests:
Wants to learn karate
Loves movies and going to the movies
Would love a tablet device (Wifi is available in area)
Loves astrology
Loves music
Has a playstation 4 - would love games
Family 3 – 11 year old daughter, mother, father
LOVES outdoors - fishing, horses, farming
Loves art projects and crafts
Wants to be a paleontologist
Plays and loves clarinet
Loves geodes
Always wanted to play soccer
Loves nutcrackers and snow globes
****Family #3 - Recently lost everything and needs the following items to get their housing situation back on track. Please note that the family is transitioning from a temporary housing location to a small apartment, so large items may not be able to be delivered on Christmas eve day.
Kitchen table and chairs
Kitchen small electrics
Couch
End table/coffee table
Twin bed
Queen bed
Mattresses for beds
Other household items
All are local Meriden residents with students actively part of the Meriden Public Schools.
If you are able to help donate to these families, please take one or more ornaments this week. Take as many as you wish, but please return any ornaments you do not use. If you cannot come in, I would be happy to remove an ornament for you and email or text you a picture of the item(s). Feel free to come in before and after school to get ornaments. If you would like to come during the school day, feel free to do so, but be sure to sign-in the main office before coming to the department.
Please bring all items to school unwrapped prior to the close of the concert on 12/18. We will take care of wrapping and delivering items to the families on Christmas Eve Day.
Thank you so much for your generosity during this holiday season!
Thanks,
Brian
Contact the Maloney
Department of Music & Theatre